---
---
Expanded-Metal Partition or Metal Lath Partition
Metal lath and plaster have been used in both residential and commercial applications to partition interior space and in non-load-bearing exterior walls where appearance and durability are key.
Rib lath
Rib lath is widely used as a plaster backing on ceilings,walls and stud partitions.
Rib Lath is also ideal for refurbishing damaged or aged masonry walls
Material: Galvanized Steel for dry conditions.
Stainless Steel for external use and condition of heavy condensation or persistent damp.
Expanded Metal Lath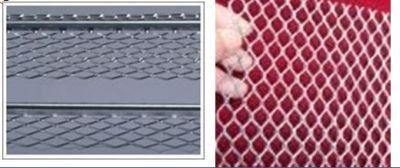 Expanded Metal Lath has stiffening V ribs providing strength for its tenforce. This type of lath is stiffened by longitudinal ribs and gives a uniform coat depth for large areas. It serves as an excellent plaster base and also provides a high degree key to mechanical bonding with the plaster and the paint. It also serves as a high degree key of mechanical bonding with plaster or render.
It has widely been used as a background for plaster, render, stucco application in construction of suspended ceilings partition.
When conventional plasters like (cement+gypsum)  used with expanded metal lath, they create a mechanical bond with the lath for maximum strength and durability.
Metal  laths are fabricated from galvanized wire into a grid or hexagonal pattern and hence due to galvanization, corrosion is resisted.
Plaster Used:

Plaster used in the construction of this partition wall must not only be strong but must also be crack resistant and economical to apply.
Mixes prepared from Portland cement and some gypsum cements offer these qualities and is known as Gypsolite.
Thickess:  It varies from 19mm to 64mm.
Uses
It is used where thinner walls are required.
They are cost effective and light in weight and durable.
They are used for inbuilt shelves and parapet walls.
Step one
First a framework of metal mesh is built.
Step two
After the initial step of constructing a framework of metal mesh, it is Plastered from both sides.
Hollow Metal Lath Partitions
---
---